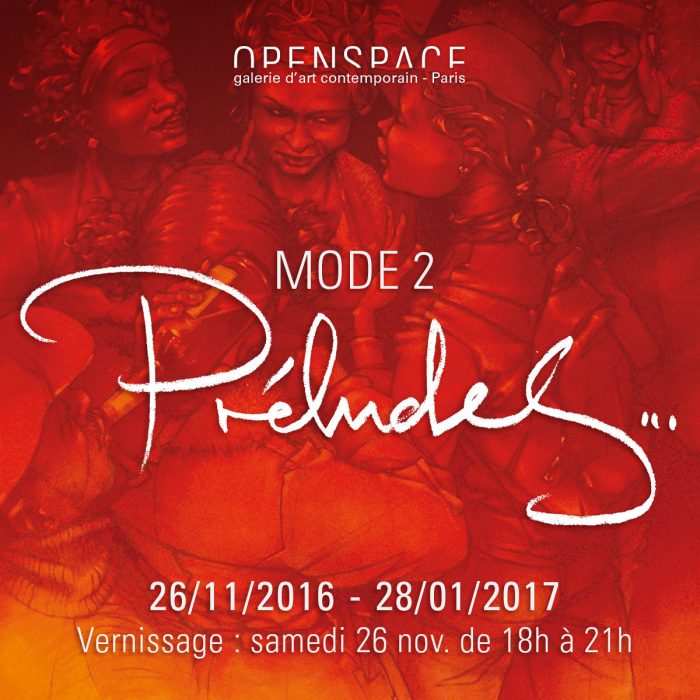 Since the end of summer 2015, I had got talking with Nicolas Chenus, from Galerie Openspace, in Paris, about the eventuality of having a solo show at the new place he and his partner Samantha de Longhi were going to open. After a lot of difficulty deciding which gallery would be best suited to the way I work, and my understanding of the culture, I had decided to roll with them both, as they were younger and closer to the culture than the other main players.
As most of those who have organised exhibitions with me eventually find out, I have never been comfortable with the idea of delivering a full collection of paintings for a show a month (or even two weeks?) in advance. A gallery opening is for me like a live performance that I'm rehearsing for, similar to a concert or a theatre piece, whereby you don't know what can happen in the weeks and days leading up to that first night, and whatever you have prepared beforehand may need some tweaking. Truth be told, the pieces that I've felt most comfortable with, or representative of my way of painting, have been done live, in front of an audience; or else they were done on the last couple of days before a grand opening, like The Bridges Of Graffiti, pavilion that I co-curated with Giorgio de Mitri of Sartoria, for the 55th Venice Biennale in 2015. I enjoy the spontaneity of complete improvisation, vibing off of the atmosphere of that very moment, the energy coming from the place, the music or the people. I wondered if Openspace would go along with my way of working…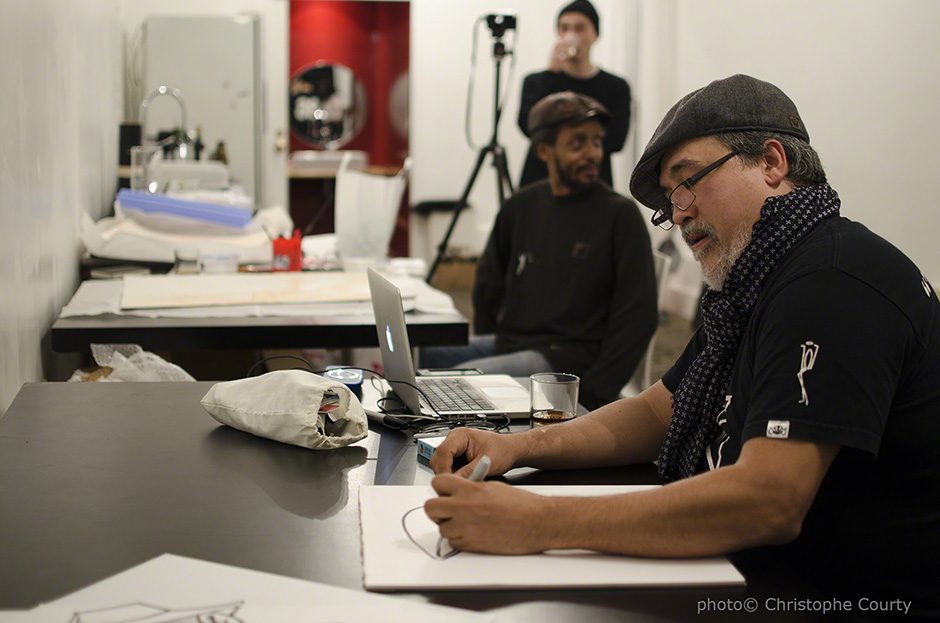 We had a first shot at getting to know each other on Doze Green's Arclandia Dreamstate show, where Taku Obata and I had the honour of standing at either side of Doze for an amazing collection of paintings that he produced. It was just a shame that the show happened barely a week after the Bataclan attack, with the gallery-space being just a few hundred yards away; so Paris was still somewhat under shock when the show opened. I was only there on the night preceding the opening, dropping off and finishing five works on paper, to complement the three paintings I had contributed. I left by taxi in the early hours of November 21st, to fly to Venice for the finissage of The Bridges Of Graffiti show. Nicolas and his partner Samantha agreed that I would have a solo show at their gallery a year later, November 2016, and I had been thinking on and off about it since then.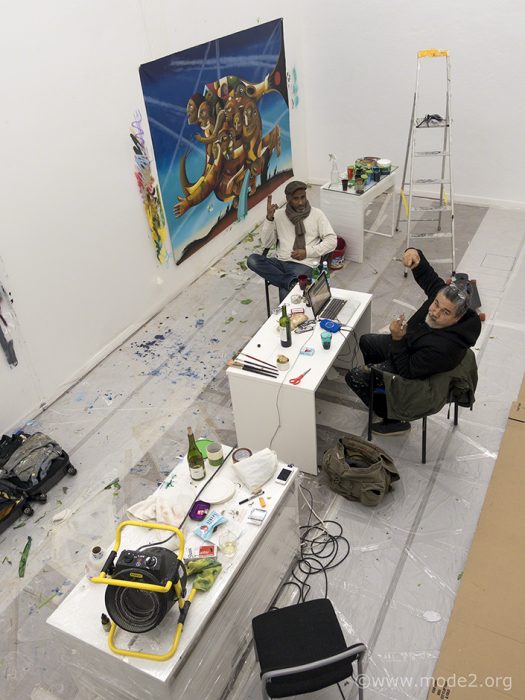 We met again on the 12th of August 2016, when Samantha and Nicolas showed me the scenography of how they thought the space should be filled; the amount of paintings that would fit into each of the four rooms, and the sizes that they thought would work best. I myself had only seen the space when Doze had been using it as a studio, so I chose to put my trust in the knowledge they have of the whole place that they had invested so much in. They had already done a series of shows in there, so they had more first-hand experience than me on how the rooms work from one to the next, and how the visitor would walk through.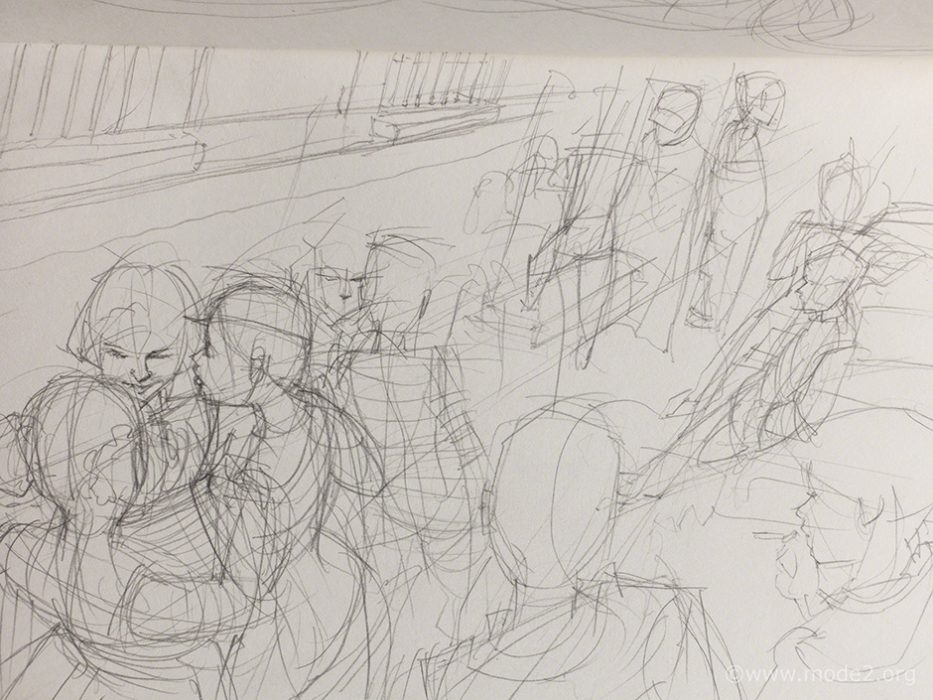 By mid-September, I had decided on the title of the show, Préludes…, through which I wanted to explore these special moments that precede something good that we have been waiting for, anticipating, dreaming about maybe, or even fantasising over. I had already begun sketching out an idea that had been in my head for a few years; the memory of queueing up for these parties that turned out to deliver even more than our own expectations, because of the positive excitement and almost palpable electricity in the atmosphere outside the venue, as people gathered outside, hearing the dull thud of the music coming from inside.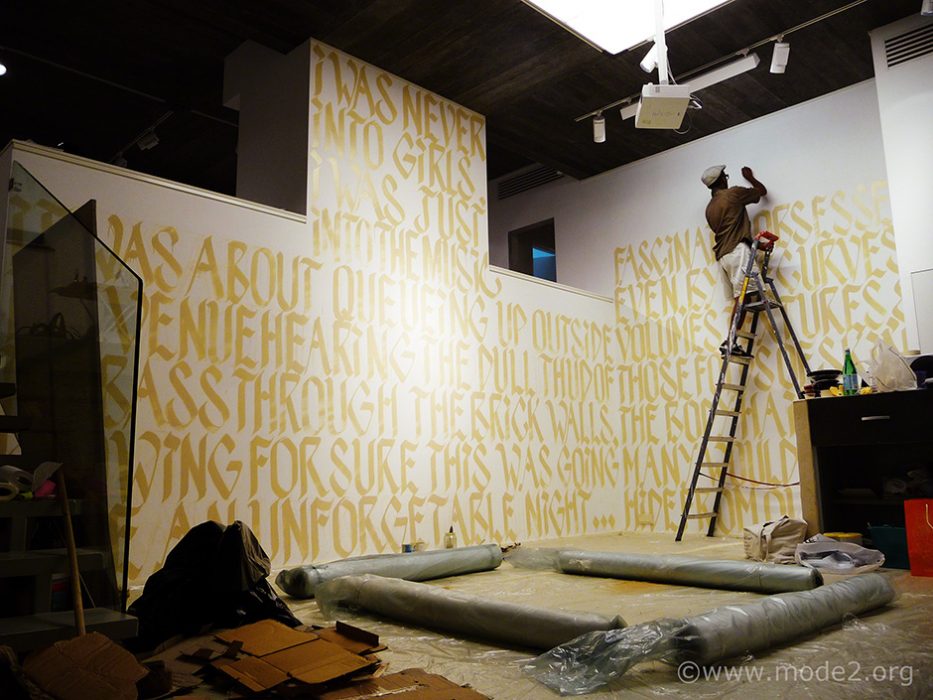 While in Moscow for Faces & Laces in August 2013, this theme had already come up as a backdrop to my participation in the group show at Gallery Agency Art.Ru; whether from a music and nightlife perspective, or from one based around eroticism. This time, I wished to explore this theme of projection and anticipation in a wider spectrum; ranging from the perspective of when we would go out to particularly promising evenings; like that time when my Gilles Peterson was playing at the Panorama Bar in Berlin, and my friend Jonathan Rau put Something In The Way from 4Hero on, as Ebon Heath and I got into the car, along with a couple of girls that were with them. No; it was purely about that tune right there, and the promise of the music to come that night.
Producing the first painting that would be used for the flyer, or that would somehow announce the intention of the whole show, was something split between two directions; the "rendering" of the first sketch I had made, or something more immediate, less time-consuming; something closer to the "action-painting" that for me brings music and dance into what I do. I needed something that would loosen ME up in my studio, as a preamble to the whole body of work that lay ahead of me. Syncopated Symbiosis set the ball rolling…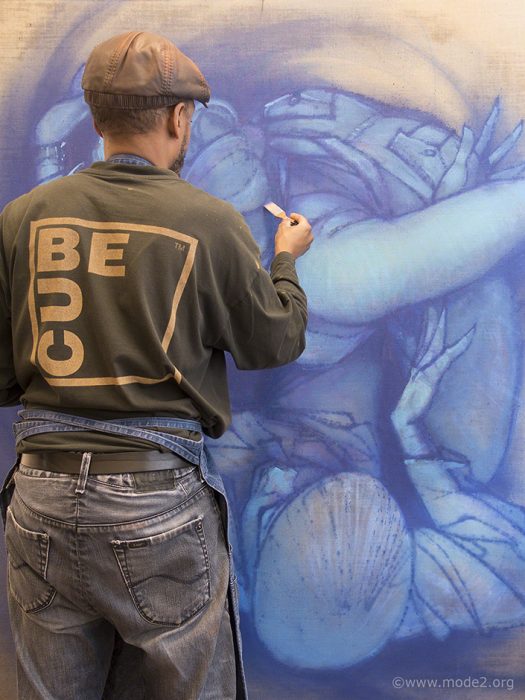 From that moment on, stretcher-bars were knocked together to the different dimensions of the paintings that were going to fill each room, while I sketched at any moment when the flow would be there; at home, in the studio, or on public transport. It was particularly annoying when the feeling would come while on the bus, as the rough ride was the last thing you'd want when trying to lay down a visual rendering of an idea that you had in your head, something that you had decided to explore under different perspectives.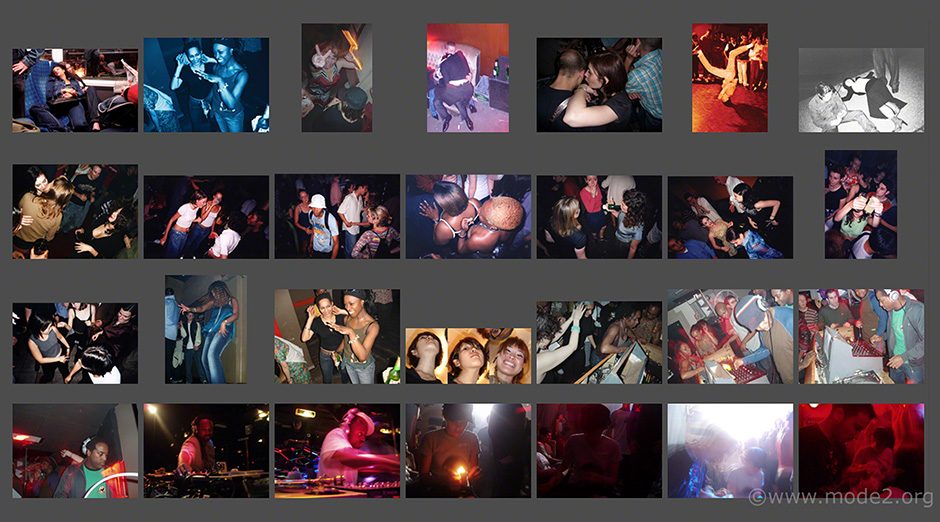 A couple of the paintings would make use of photos from my own personal archives, as taking snaps has been a part of my life since I used to hang in Covent Garden in 1984; eager to document the incredible thing that we were collectively living at that time.
The photos I end up choosing for a painting are not so much to do with any nostalgia or sentimentality about a particular person or place, unless of course we can blatantly identify who the characters are, such as in Crowd Control; a celebration of the Sunday nights Co-Op sessions at Plastic People on Curtain Road, London. The two girls on Last Train Home are as anonymous to me as they are to whoever is looking at the painting, because, ultimately, it is the scene and the act that count, and not the actual identity of whoever that real-life person may be. I guess I could have drawn a replaced their faces with one out of my head, but why bother going to the trouble, if the photo in itself does the job?
One day, I will probably make a book of all my photos of going out, where the only captions would be a place and a time maybe, as it doesn't matter whether or not people are famous or unknown, whether I actually knew them or not. The anonymity makes us all equal in front of the lens in some way, and makes us focus more on the actions of the moment instead…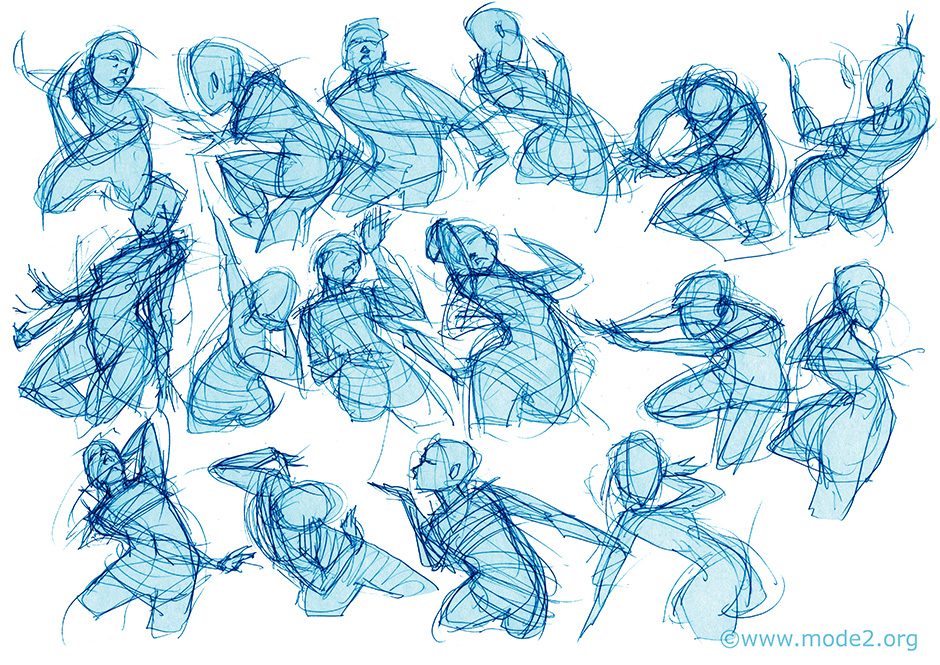 When it comes to the characters that I actually draw out of my head, themselves being the interpretation of so many people that I've seen under so many angles over many years of observation; the result becomes an unintentional mix of faces that some may find familiar, whether they are one-offs or recurring types that become part of my figurative vocabulary.
The actual body shapes and movement are somehow akin to the letters of the alphabet, or to the different musical instruments that would make up a jazz trio, a classical ensemble, or a solo instrument; depending on the theme and its complexity. From the torso representing the kick-drum, right through to the fingertips expressing the higher frequencies from wind instruments, strings to cymbals, the body itself becomes an instrument with which I compose within the four corners of a piece of paper or a canvas.
It is also a metaphor for how we break up the letters of the alphabet at particular points, shaping them to a different rhythm than those imposed by convention or the whole plethora of fonts we have at our fingertips, and aligning them in our own dynamic sequence as we execute tags, throw-ups or even pieces.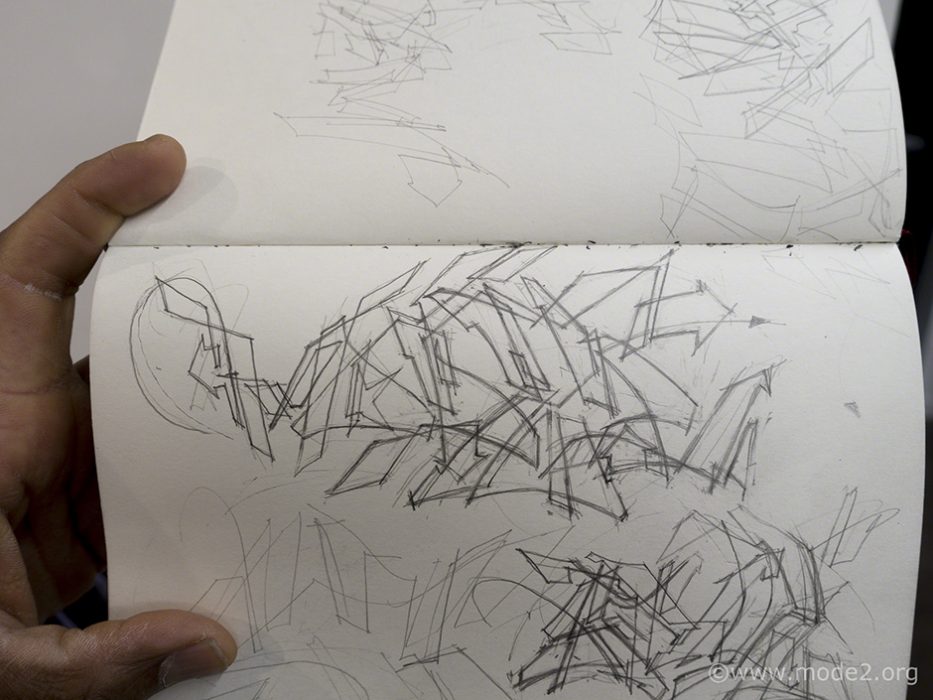 As we look at tags and throw-ups in particular, while walking down the street, anywhere in the vicinity of public transport, outside club venues, inside pub toilets, or anywhere else for that matter, writers can feel whether it was done from the wrist, the elbow, or the shoulder, depending on the size. For throw-ups, or the large tags done with fat caps, we can also feel how the writer had to move along the ground in order to complete the mark that he (or she) left.
There is no need to intellectualise in any way, the same way somebody steps into a dance cypher, or when we hear the first few bars of a good tune that hits us in all the right places. There is a beginning and an end to each act, each move, each tune, and it's this rhythmic flow that I try to emphasise through the way I deal with lettering; one line taking us right the way through, the way one would execute a dance step, or a piece of music. We feel this, period; and, if you haven't actually got down and tried this for yourself, you can be a respected art-critic or other member of the cultural intelligentsia, but whatever you may have to say would be pretty much irrelevant to us. As the old jazz adage goes, "It don't mean a thing, if it ain't got that swing"; or style, flavour, soul, or funk.
I wanted somehow to be able to have one room where letters would be present in the show, because they are an integral part of my work, and have taught me about more abstract notions of rhythm and dynamics to how I draw figures as well. So we managed to make a space for them in the smallest of the four rooms…
So how I compose with the human body in movement, how I try to make you imagine your own music to the dancing or party atmospheres that you see, how I attempt to suggest the sound of of the ruffle of clothing, somebody's breath against your skin or against your ear, the tumbling of hair, or the music of wet flesh coming into contact, are also approaches to drawing and painting that somehow draw a parallel with the hidden language of the tags and throw-ups that we see; the size of the line left by the can of paint suggesting the type of cap used and the noise as the paint came out, the mat or gloss surface of either a wall or a pane of glass, on which a marker would either squeak or make a brushing sound, the smell left behind by fresh action.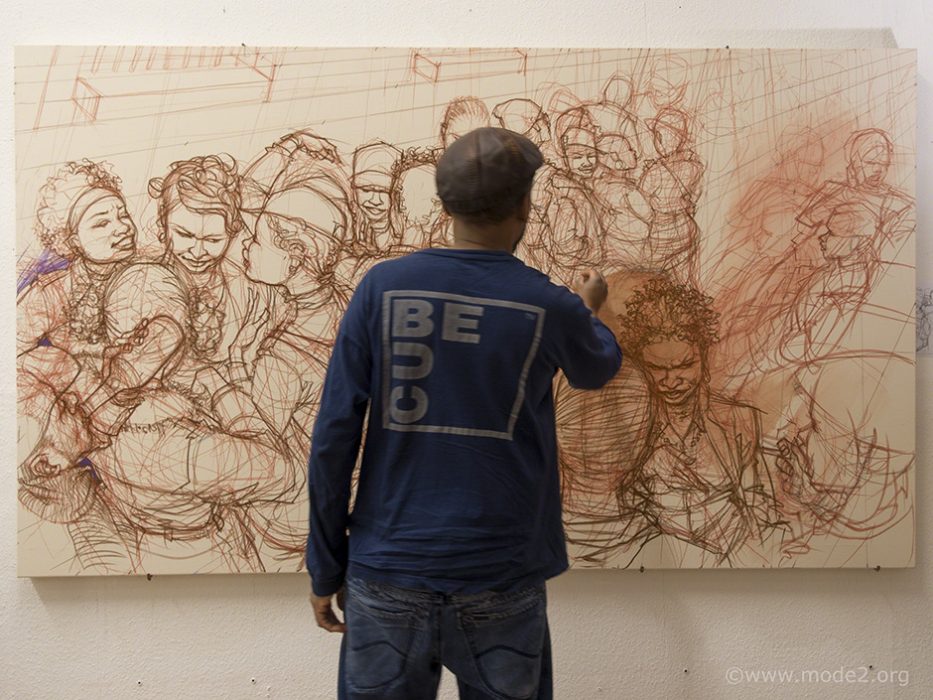 With these elements as a kind of toolbox from which I build and compose my images, whether they be figurative or letter-based, I set about preparing and producing a large collection of new pieces for the show; some of which would end up being shipped to Paris unfinished. Others yet were still merely pencil sketches in my blackbook, or on a few loose leaf sheets of A4 photocopy paper.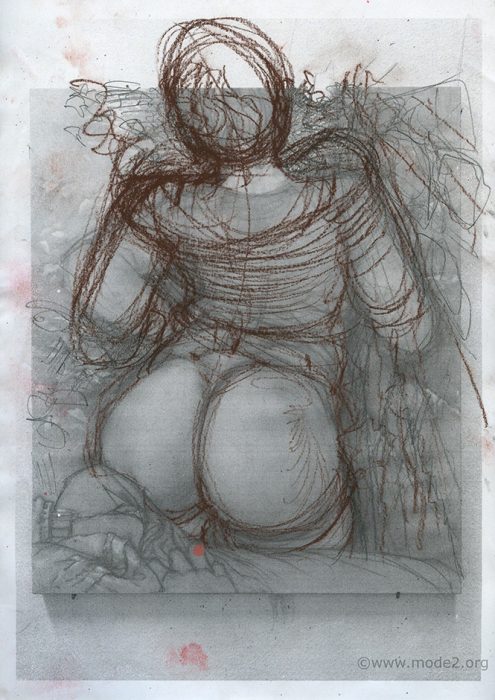 It is worth noting at this point the level of faith that Nicolas and Samantha put in me, as I had taken them far out of their own comfort zone; even when they themselves have a pretty much continuous gruelling schedule. I thank them for allowing me the freedom to be myself, the space and time with which I can manage my own self-imposed pressure. I spent the majority of my time in Paris at the gallery, apart from when I went to get some food, or else the numerous trips to the art stores; Sennelier on Quai Voltaire being always a pleasure to go to.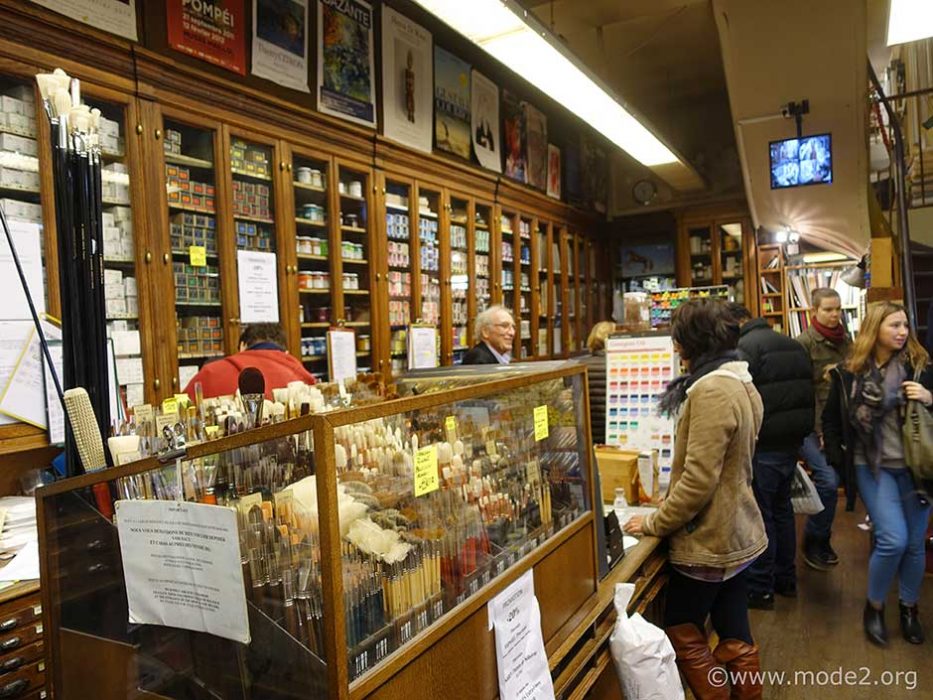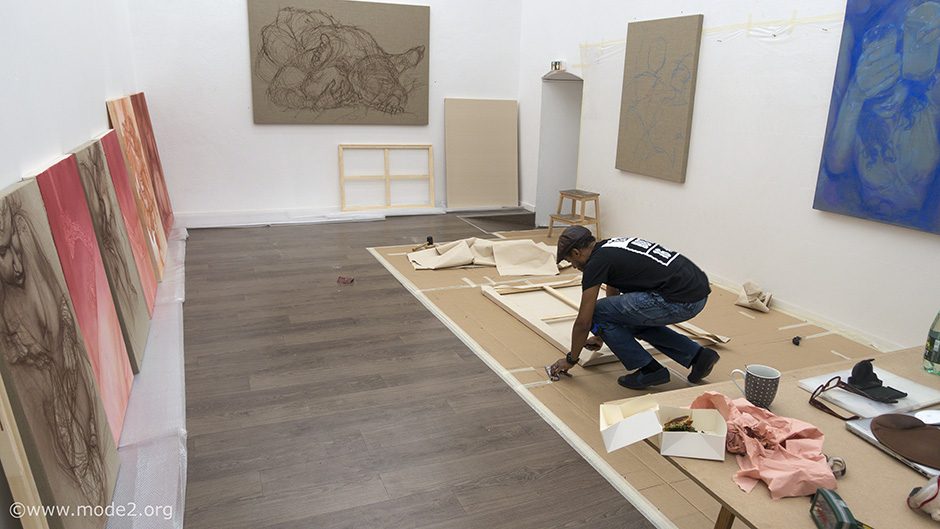 I guess that, somewhere along with what I mentioned at the beginning of this post, regarding how I see a gallery show opening as a kind of performance, theatre piece, or a live concert; something about the excitement of the urgency in this is the only thing that might be vaguely comparable to when I used to go out and paint, knowing full well that we only had limited time to turn out something that would have made it worth the risk of being caught. Family-life and an intolerance to spray-paint has seriously curtailed adventures of this kind, as it also has to partying like I used to. It would seem as if there may be fewer parties worth actually going to anyway; but yes, I do miss going out when I've been too quiet for too long. I've therefore tried to transform my gallery-shows into some kind of ersatz, though it's all still very much a work in progress…



Chris Courtney filmed my week in Paris, as I went through the final build-up to the show, which opened on Saturday 26th of November. This footage was normally going to be edited as a short film which would be on view in the smallest of the gallery spaces, alongside the lettering pieces; but it took on a life of its own, and was only released a few days ago, at the beginning of January 2017.
I have been around for rather a long time, and I have had my hands in many different activities within and without of the Hip Hop scene, so Nicolas thought that, for a solo show of this importance in Paris, it was worth going to the trouble of giving his public a better insight into what I am about, and my particular way of working. As I have subsequently discovered by the questions put my way from different on-line street art blogs, it is incredible how short most people's attention-span is, and how quickly they forget the other important events that I have been part of these last few years. It's a pretty scary thought, when you feel that you have to make very long answers to what look like simple questions, because you have to put everything into the historical and cultural context that seems to be lacking from from the way people think these days. I have tried to keep this recap as short and to the point as I can, and will add the links to the interviews I am doing over the next few weeks. Anyway…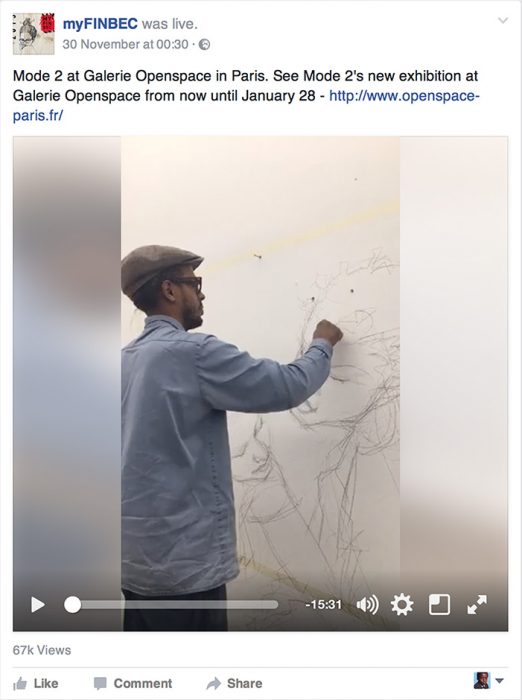 Chris also got to film me, as I improvised a sequence of bodies dancing on the ground floor walls. The paintings would then be put back in their designated places, with these new characters adding another subtle layer of shapes and rhythm that would act as a backdrop to this nightlife-themed first space. Should you be on Facebook, you may be able to see some footage of the end sequence here.
It was while doing this that I was reminded of why I like paint to music, improvising to the sound and filling up the space as I go along, in much the same way as I did in at the Biennale in Venice last year. I realise that I can best express the movement that I want to depict, to a level of abstraction even, on larger surfaces, such as the Movement painting I did at The Bridges Of Graffiti.
Préludes… opened on November 26th, then shut on Saturday 17th of December, it reopened on the 4th of January 2017, and goes on until the to the 28th. I will be present at the gallery on Saturday January 21st, where I will be signing a limited edition digital print of one of the paintings. Parallel to this, Niels Shoe Meulman will be signing his latest book, Shoe Is My Middle Name; so we're looking forwards to a little bit of a CTK get-together on this double-bill.
Should you want to see more of the paintings from the show, I won't be showing too many of them here, as it's always better to go and see them in real life. However, should you not be able to make it to Paris before January 28th, the catalogue of the work on show is available here as a downloadable pdf; and you can also find Galerie Openspace on Facebook.
You can read up a little more about the show on the following blogs, with a special mention for my interview en Français by Nicolas Gzeley for Spraymium Magazine. Should you have time on your hands for a long and more in-depth read covering everything from the show to my opinion on other issues regarding culture, there's the Widewalls interview which was published just after Christmas.
Here are links to the remaining blogs that are currently on-line:
Arrested Motion
Wankr Magazine
Strip Art Blog
and
Princesse Pépette