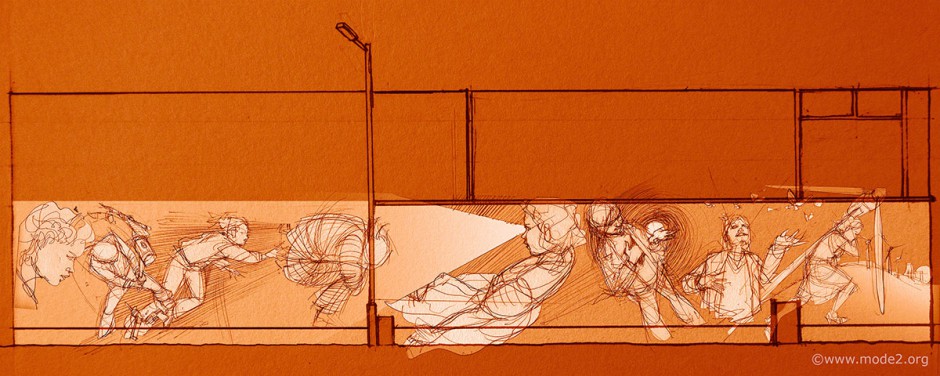 I was asked at the end of July whether or not I was up for making a short film for one of the songs on the upcoming U2 album, so here is a link to it on the band's news channel. You will also find there all the other film projects that were done by artists such as Todd "Reas" James, or Vhils from Lisbon.
Should any of you wonder what my motivations were, with regards to this project, here follows the short interview from the agency coordinating it;
1. What was the inspiration behind your film?
As soon as I heard that U2 were apparently (or partly) inspired by the mural culture of Ulster, with regards to this film project, I knew that I wanted to go back to Belfast or Omagh, and do an actual public mural, as opposed to doing something in the studio.
By the time I went to the listening session of the song I had been assigned, the only people in my mind were those of Omagh, the ones I had spent a good bit of time with twelve years before, whose stories I had heard, and whose views on the long conflict had really brought home to me what life is like for ordinary people trying to lead ordinary lives, in harsh and extraordinary circumstances.
I like Belfast, and loved my first time there in '97, when the youngsters' faces looked so fresh and positive, as a lasting cease-fire was finally in place. That said, I had developed an even tighter connection with Omagh, since I went to do a commemorative painting there in spring 2002, for the victims of the 15th of August '98 bombing. It was, along with work I later did in Cape Town, the most humanly enriching project I had done in my life. I had always been wanting to be able to do more for the town, and this project gave me the opportunity.
2. How did your approach differ from your other projects? Did you face any unique challenges?
Whatever U2 were going to throw my way, musically or lyrically, I chose to only see it through a prism representing my own views on the conflict in Ulster, and what I could do to propose a public platform that would help in triggering dialogue, debate, discussion and so on, between those who would get to actually see the mural in real life, in their town; a hopefully welcome break in their routine and the general status quo.
I had thought about doing this in Belfast, where I had also done cross-community workshops in '97, '98 and '99; but the Peace Wall, running parallel to the Shankhill Road, would have posed some problems, with regards to passers-by who may make the wrong interpretation of my intentions.
McGinns store is familiar to me, as my old painting had been fixed on its outer wall since 2002, visible to everybody driving or waling into the town along the Dublin Road; so this was the best vantage point I could get. I had to talk the owner, Colm, into accepting to take the risk on the project, and he of course said "yes".
Respecting the non-disclosure agreement, and having to basically lie to some of my friends there was almost a heart-breaking experience. It is so difficult trying to push something through that you hope will do people a lot of good, while actually having to lie through your back teeth to them; in order to keep the project under wraps. The ordinary people of Ulster, on all sides of the divide, have been lied to and manipulated by politicians, extremists, and paramilitaries, for decades; so the contradiction of trying to do something good for them, while having to lie to them in order to achieve that good, made me think that I was no better than the other people who may have deceived them in the past.
On a more practical day-to-day level, the challenges with Northern Ireland are always the same; the first being that of finding a colour palette and a narrative that does not exclude anybody from either side of the political divide, especially when you are searching for a debate-provoking theme. The other main issue is the fact that the weather is rather unpredictable; "sunny with scattered showers" being the usual feature, so the elements would definitely have their word to say in the proceedings.
With the short time available in which to do this, and the fact that the contact with the animation team only happened a few days before we got started, it was always going to be tight; especially as both sides were doing their best to accommodate each other, even when they didn't have a clue about their respective working methods. I had to think about animation, and had to draw a sequence in seven steps, something I had never ventured into doing before. I had to pitch to Marcus Lynam, from Hoop La, what I wanted to convey with my interpretation of the song; and I had to make Richard Donelly (who filmed most of the sequences, and brought many of his own ideas) get an idea of how I work on a mural of that size.
We basically ran out of time on the project, with regards of the film-crew ending up with a finished mural, but that wasn't really a problem, as the sketches in themselves, and all the action filmed, had provided enough footage for what we needed. I went back to Omagh a few weeks later, in order to finish it off.
Finally; interpreting the lyrics that I had heard into a stand-alone narrative that would be made-to-fit for Omagh, was a huge challenge in itself. However dark things may have been or may still be, in some isolated cases, I had to transform all the elements that I had into something that would somehow be positive and hopeful, though I also did not want to have everything seeming too literal…
3. How did it feel to participate in a project like this?
    As I set out to with the idea of a mural in Northern Ireland, then one in Omagh specifically, I could only feel totally engaged and very positive about the project. I am happy that I did get the song that I did, and that I could make it work with the intention that I already had in mind, but ultimately it is the fact that, from a song that the local population had not yet heard, and from a group that many probably know about, I managed to push through something that touches a certain chord with part of the local community, and that they could somehow convey this to the others around them.
Although I had "Bloody Sunday" and U2 circa 1984 in mind, when I heard the song, I guess it falls more into a "With Or Without You" mould. Still, the lyrics were open enough for me to transform it into the general idea that I already had in my mind. That said, I have spoken only to very few people about the significance behind what I painted, and where it all ties in with the actual lyrics. I've actually remained pretty faithful to the words themselves, but chose to absorb them through a certain historical and socio-cultural filter.
I had a lot of debates with Colm McGinn, and Ciaran McClean, the only two people locally who knew about the project, and I tried to deliver as well and honestly as I could, for the trust that they had in me, and the hope that the end mural would be something positive for Omagh in general; as it states at the very beginning of the film.
Ultimately, the time that has elapsed between when Marcus Lynam handed in the last edit of the film, me going back to Omagh to finish the mural, and the final public release of the film, has given Omagh the opportunity to appropriate this mural for itself, before a wider audience get a piece of the action, and it gets carried off on another new path.
If people want to actually see the finished mural, they will have to take a plane then a bus to Omagh, and remember to keep on looking left, as they come around that last bend of the Dublin Road, towards the town centre and the bus station…