Sorry for having been away for so long. Life is made up of lots of work, having to handle other projects which do not necessarily pay, while also having to take care of the Chrome Angelz page on Facebook, which was not my initial intention. Let's not forget that spending time with one's family is more important than the rest all put together. Anyway…
I thought I would take this occasion to remind those of you who are not already aware, that I have a show on at Galleria Patricia Armocida, in Milan, until Saturday 7th of May 2016; my first proper solo exhibition in quite a while.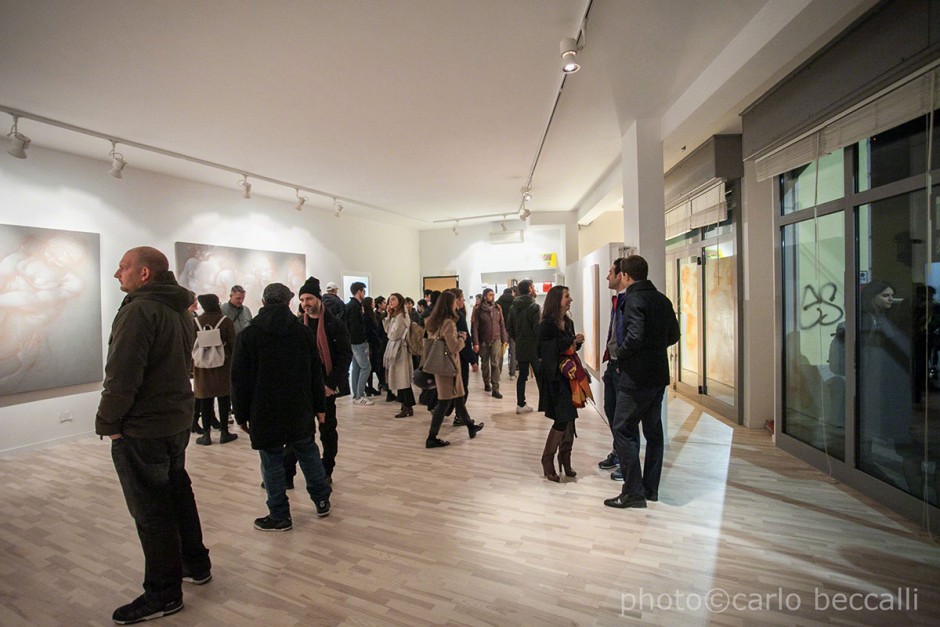 Opening night, ground floor of the gallery
Patricia and I had been talking on and off about this since a few years, but it's not until our meeting last year at The Bridges Of Graffiti (something else I SERIOUSLY need to write up about!) last 7th of May 2015 that we actually managed to fix a date for early this year. She had seen the three new paintings that I had on show, a deconstruction of my interpretations of dance and movement separated into the elements of line, light, and movement; the three components that usually make up the foundations of my paintings. When we met again at the finissage of Bridges on November 21st, we set down the basic framework of what this Milan show would be about; even if that initial idea was to evolve from that point on.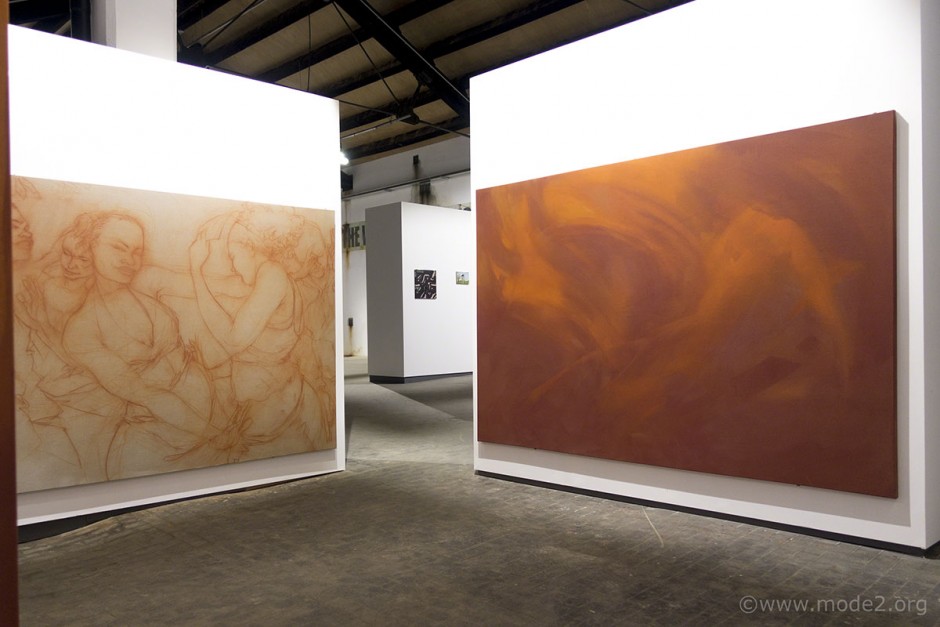 "Line" and "Movement" at The Bridges Of Graffiti

I guess that, since first making a flyer for THIS!, the Monday nights at Bar Rumba, in 1997, I found a way to express what I felt to be the ideal party atmosphere, where DJ's play tunes that work like therapy on us all; inspiring, enlightening, uplifting, and empowering the crowd. I already had some experience in this field when dealing with the Battle Of The Year posters, in the mid-nineties, then every single year since 2000. Dance has therefore played an important part in my work since a long time.
Writing, dance, and music have therefore always been an integral part of my life, though I devoted my output more to the graphic form of expression. Flow, shape, volume, ambiance, rhythm, and dynamics are the factors that I wanted to manifest through these new paintings, as I continue to explore these threads that differentiate our culture from all others. Critics, collectors, curators and buyers alike have never really grasped this particularity to the culture, for the most part (How often do you see them on the dance-floor?); but they are still allowed to speak with authority about what they don't know, while conveniently dismissing what would be too hard to explain. That, however, has never stopped my contemporaries and myself from exploring our uniqueness further; each in his or her own personal way. I therefore decided to call the show Transitions, as I continue my quest along this path of discovery and self-discovery.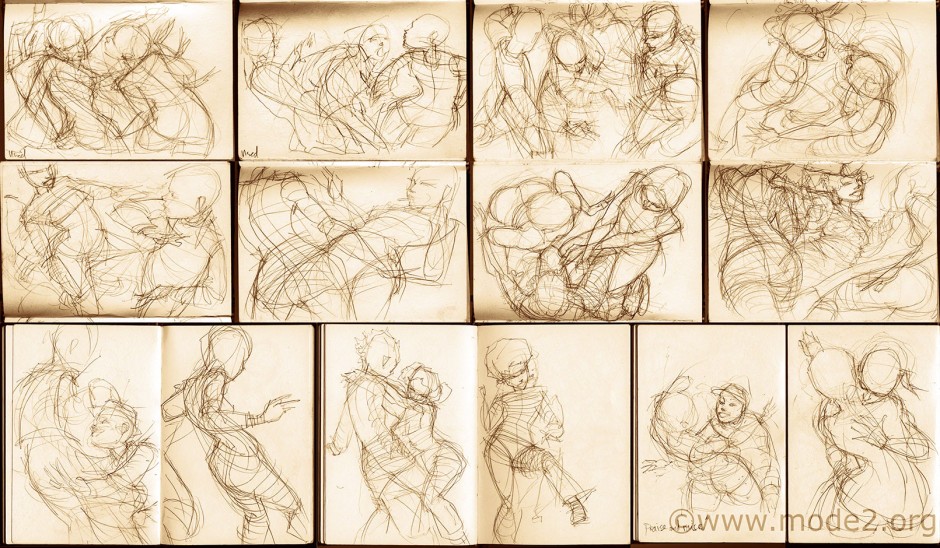 "Transitions". No, they are not for sale!
A line can be traced through a tag, a throw-up, a dance sequence, or a piece of music; all those representing different forms of expression. I chose to show how this can also be applied to the figurative work that I do, as the characters have always been a part of my work, and that they were the main reason behind the fame and recognition that I got in this culture. I cannot, however, dissociate myself from writing, and my characters are somehow expressing the rhythm, dynamics, flow, and harmony inherent to writing one's name, as a tag of a throw-up, except that I am trying to give the same flavour and dynamics to a torso, four limbs, a head, and a pair of hands. Should you be interested in seeing more of the lettering that I do, look no further than Unruly Gallery, who hold the majority of my archives of lettering paintings.
After the Line comes the Light; the element that we use to give volume to throw-ups, pieces, or characters. It can be seen as a literal reflection all that is around us in everyday life. It is the manifestation of reflected light from different surfaces giving off different colours to our eyes. In the semi darkness of a club though, this becomes much more subtle, yet more important to us, as our eyes struggle to make out what is where, between the ambient light, that is falling softly on people, and the silhouettes around us. Like I said about Plastic People, and also places like Bar Rumba back then, I prefer the places with subdued light, as it means that those who are self-conscious can also come out onto the dance floor. And another thing; the less we see, the better we hear…
Movement in painting is about as close to dance as you would get, because I'm trying to convey the dancing through the articulation and the torsion of the characters, their limbs filling the space, and the angles of their hands, the tips of their fingers, the tilting or rotation of their heads accentuating the flow of energy going through them, punctuated by rhythm, akin to composing music; something I wish I had made time to do in my life. I guess you could go from the main parts of the body being the bass, right up to the finger-tips being the treble or the high-hats, muted horns, strings or keyboard…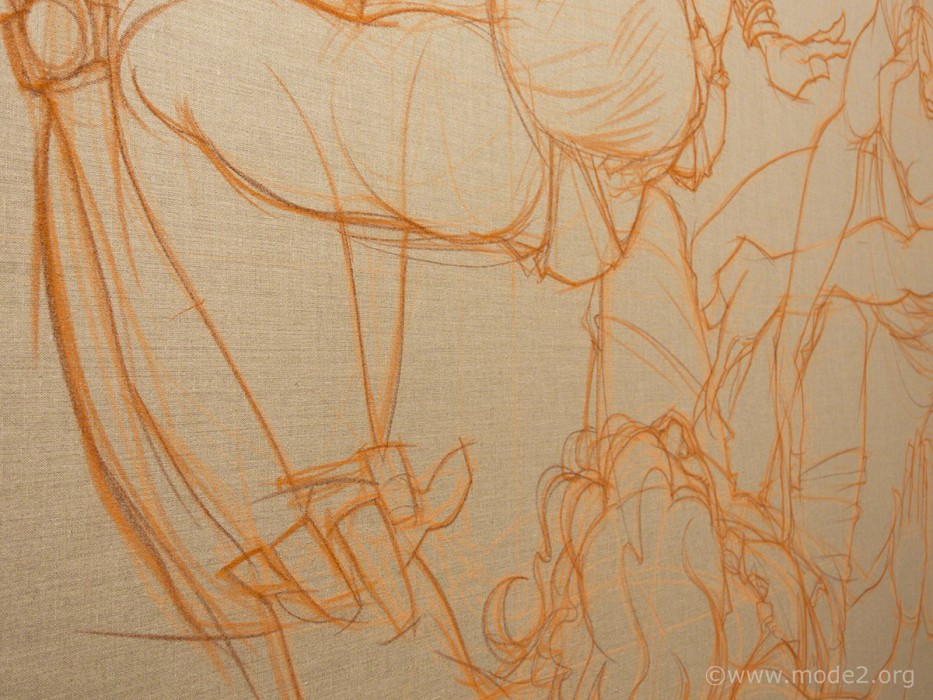 Pastel sketches of "La Ronde" on linen

Bringing us right back to the letters then, I remember doing a workshop with some youths in Dakar, Senegal, back in April 2013, explaining to them that they knew what A-B-C-D looked like. So, in order to give their letters style, they should imagine how they are reacting to music, on the dance-floor; their eyes shut, with their limbs shaping out the best moves they have in their mind's eye, through feeling, and through rhythm…
Here are some photos from my short stay in Milan, and from the gallery and show opening. I'd like to thank Carlo Beccalli for use of his shots on the opening evening. Should you wish to view photos of the actual paintings, please contact the gallery.