In early January this year, I got a message from my friend Christoph Tornow in Hamburg, about the idea of doing a show. I hadn't heard from him in quite a while, after he had stopped with the Vicious Gallery, where I showed in November 2010, and gone back to being the very skilful ophthalmologist that he is.
He, along with his partner Isabella Augstein, had opened a new gallery called Golden Hands, and wanted to have a group show over the summer; choosing Miss Van and Dave Decat alongside myself. As Isabella and Christoph wanted just a few paintings, not too large in size, this was an ideal opportunity to show again in Hamburg. Furthermore, I had not met Miss Van since she had become famous for her very distinctive work; and I was also really interested in meeting Dave Decat; whose illustrations had been chosen by WIP for the Carhartt Fall/Winter and Spring/Summer 2005 campaigns over mine, back in Spring 2004. I was curious to meet the individual behind these idiosyncratic images of characters not seeming to fit in with today's definitions of supposed "cool"…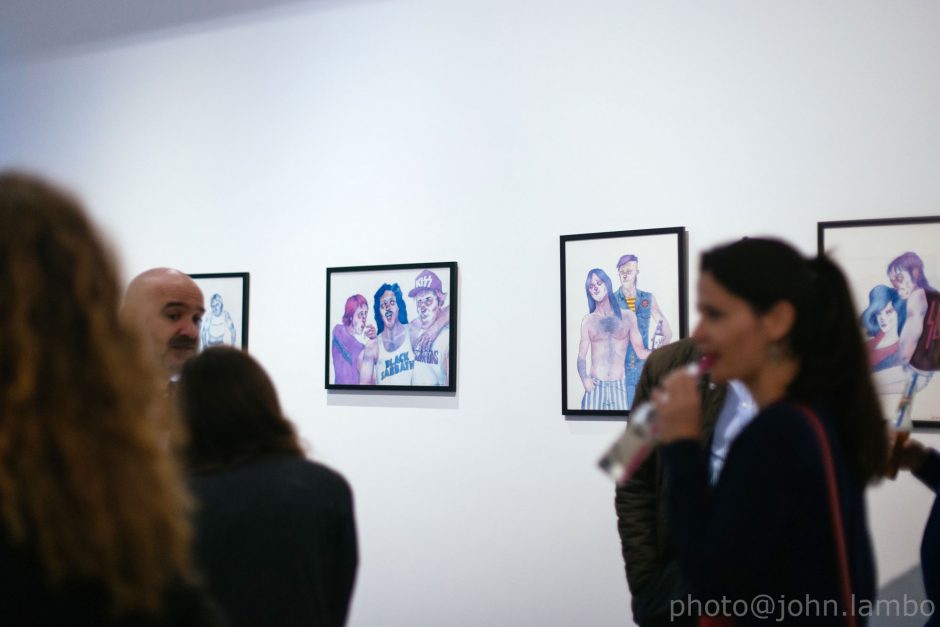 Ever the procrastinating perfectionist, who more often ends up finally throwing caution to the wind and letting movement and spontaneity dictate the execution of what is in my head; I had been asking Christoph about what my co-exhibitors were preparing to show, as I wanted to complement what they were doing, so as to optimise the diversity of work on display. As you may have learned from my Préludes… show in November 2016, I always see the opening of a show like the first night of a theatre-piece, or a live concert, and keep on working right until the very last minute.
I decided on four paintings using pastels, along with white acrylic and binder; two lighter pieces on cotton, and two darker ones on linen. These last two capture the notions of line and movement that are so dear to me, while the first were experiments with lighter and warmer pastel tones against a white background; A Bird In The Hand Is… being another tribute to The Kiss by Gustav Klimt, while Blaming June was a little nudge and wink to Flaming June from Sir Frederic Leighton. As the show was opening on the 8th of June, I found this little play on words appropriate.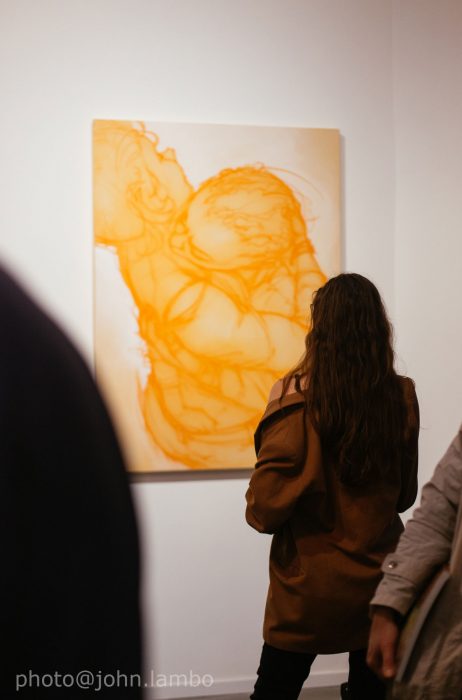 A Bird In The Hand Is…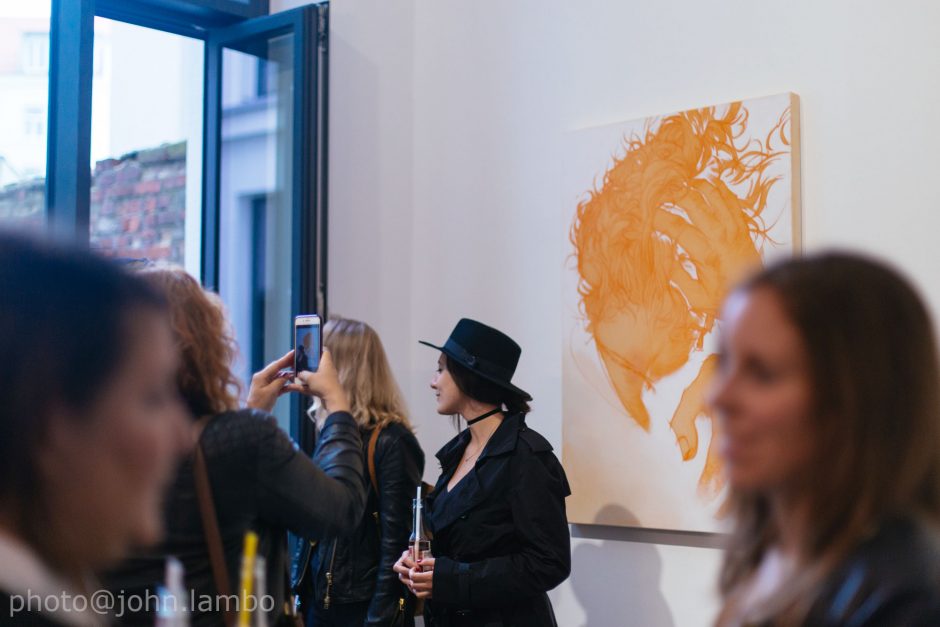 Blaming June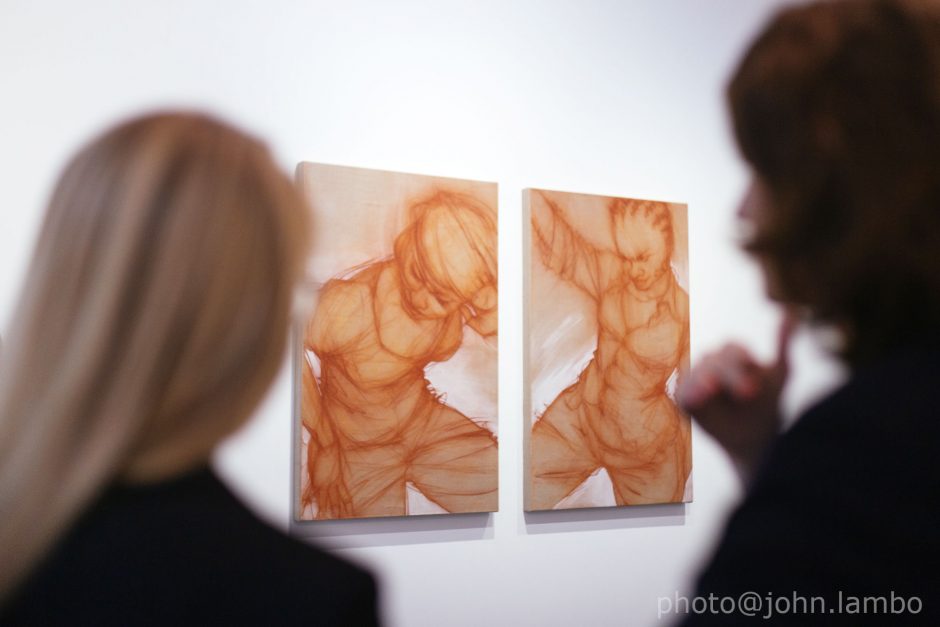 No Time To Talk and Check!
As usual, I was the last of the three artists to show up at the gallery, the day before the opening; with my paintings unmounted and all rolled up, and my stretcher bars disassembled and packed together. This allowed me to travel by train from Berlin to Hamburg, then re-stretch all the work on site, while Isabella, Jovanka and Christoph in particular were getting a little nervous watching the guy they had paid to hang the show moving slower than a slug. He first showed up without any of his own tools, expecting the gallery to have everything on hand!
As I stretched my paintings I got to know Vanessa (Miss Van) and Dave up close, and we traded stories and opinions on a wide range of topics that are tied to trying to make a living out of our art, while dealing with the dilemmas of compromise and self-promotion. Of course, we were never going to agree on everything; but it is always good to be able to exchange like this with other artists, in order to work out who is the person behind the images before our eyes, and where we ourselves stand as individuals among all those other people who are also out there trying to make a living from expressing themselves…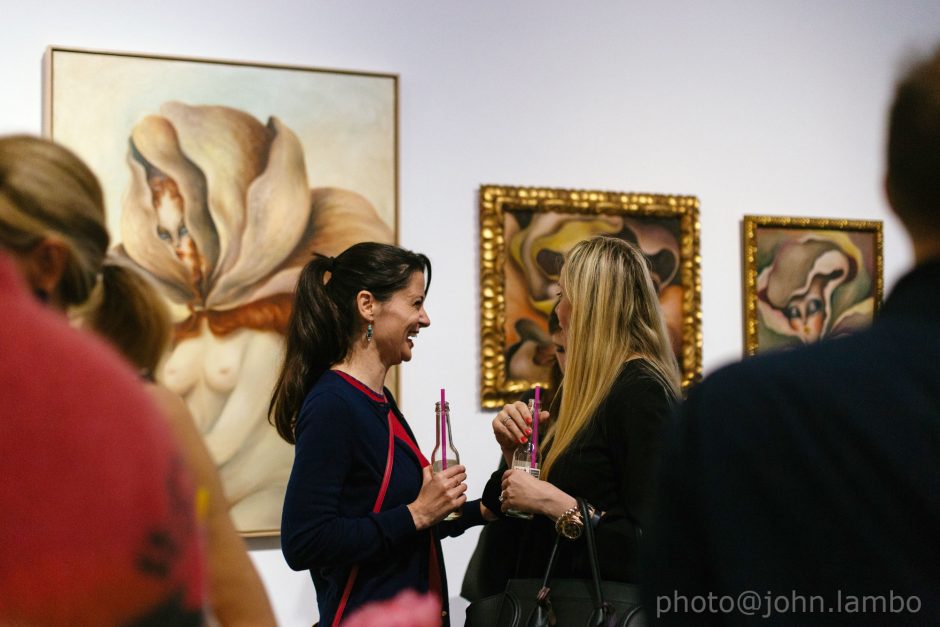 We were taken out to dinner by Christoph, that rather wet Wednesday evening, to a rather crowded little place called Cantina Popular, where the food was really good, despite how noisy the place was with all the people eating and chatting at the neighbouring tables. I explained to Vanessa, Dave and Christoph that the loudness of the chatter also had a lot to do with the music that was coming over the speakers, especially when the instruments (horns mostly) were near the same frequency as voices in conversation…

It was cold and raining when we went back to the car, offering to share my umbrella with Vanessa, while Christoph and Dave seemed pretty oblivious to the weather. I realised that I should have brought a zipped hoodie or something to wear under my light jacket. Oh well… Vanessa, having arrived on a two-and-a-half hour flight from hot and sunny Barcelona earlier that day, had it worse; and by the time we ended up back at Motel One on Am Michel, where we were staying, we were glad to be in the warmth, and chatted into the small hours.
I had a bit of a walk around the next morning, despite the rain, as my ageing Knirps umbrella kept me dry. I had lunch alone at a spot just up the road from the gallery called Marblau; as I knew that we had an interview planned for 17h00, the opening right after directly after, and will be really hungry by then.

I showed up at the gallery at 15h30, and helped Isabella out a bit, while also touching up the two lighter paintings with a white that I had made a little too translucent. It kept receding into the cotton when it dried, and looked like it could need a little more punch, under the gallery lights. I was also waiting for my friend Khashayar Naimanan to show up, along with his partner, as they took a last-minute decision to come to the opening.
Dave showed up, and explained to me that Miss Van had come down with a cold; having gone sightseeing under the rain that morning, as she had not been to Hamburg before. Dave himself had gone record-shopping; always remaining true to his roots in the metal that he likes so much.
A little while before 5pm, KP Flügel and Jorinde Reznikoff showed up, to take Dave and myself to FSK Hamburg radio studio, which thankfully was just over the street; a remnant of the old, humble and charming Hamburg architecture that was hidden behind newer developments. As they popped a few questions our way, the time seemed to fly by in there, and I got to know yet more about Dave's world, while I recounted my own history in an abbreviated form; but we simply did not have that much time to insert more music into the programme, or get to the end of all we wanted to say. Our combined and very different histories would take a lot more time to explain to the audience. You can check the interview here on Golden Hands' website; but KP and Jorinde also asked me whether or not I would be interested in coming back, before the show ends on September 15th, and do another interview about growing up in London in the early Thatcher years.
When we got back to the gallery, I had only a short moment to change out of my painting clothes, before the public started showing up. I had some quite interesting conversations with a few different people, as the evening went by; keen to talk about what's behind my work in general (and not about any piece specifically), and dispel some of the myths around who I supposedly am, and what makes me tick. It's always interesting to hear their own interpretations of my work, and also to compare how the male and female audience view the way I treat eroticism and sensuality in my work; especially so when it comes to those who have been following my work for some years.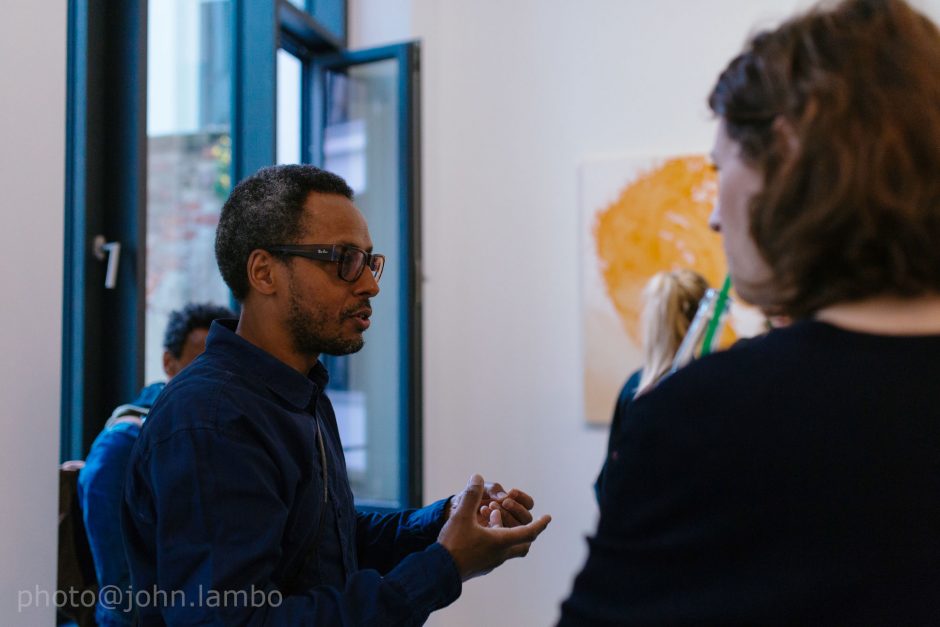 Khashayar had showed up a little earlier, so we spent quite a while talking; as well as with another friend of mine, Kal Touré, who had moved from Paris to Hamburg years before. There were more upmarket-looking people present, as opposed to the usual crowd that we are used to; but this maybe had been how Isabella and Christoph thought that the evening should be, so that the visitors actually had space to step back and contemplate on the work. The alchemy behind the three artists chosen for this show seemed to be working; and I liked how our work really contrasted and complemented one another…
Miss Van did make it over to the opening, and I caught her talking to some of the guests, though she also had a big cup of warm tea to help her along the way. As it always goes with openings, the artists don't get to see each other much, as they are all engaged in different conversations with other individuals, or groups of people.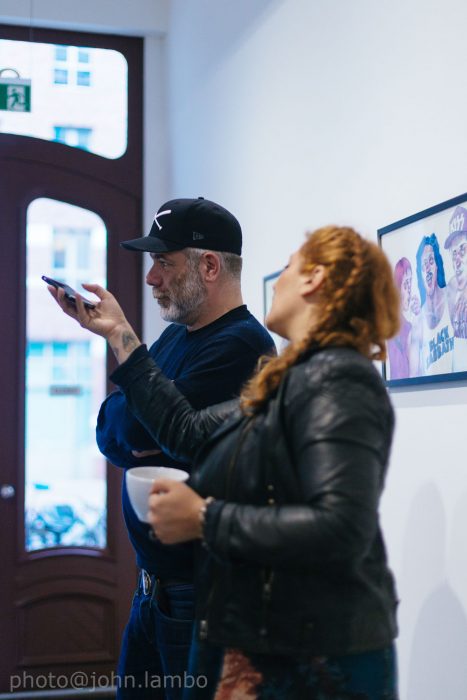 Dave had told me something about wanting to catch a band that was in town that night, and that we'd eventually catch up again later when it was all over. As for Miss Van, that was the last I saw of her on this trip, as I think that she may have called it an early night…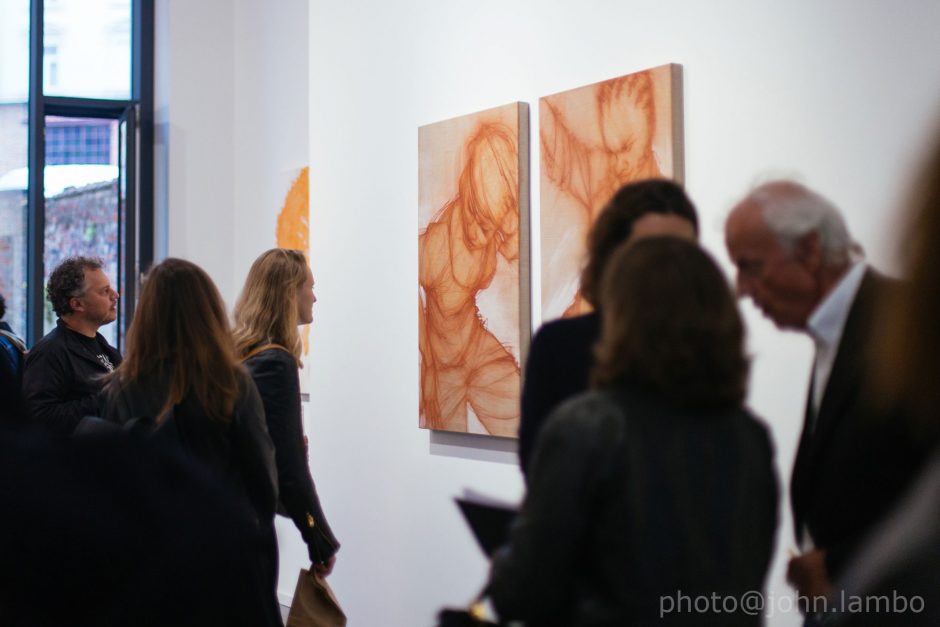 Having not seen the time fly by, I wanted to know where would we still be able to eat at around 10pm. Luckily for Khashayar and myself, one of the guests called a spot that was near the gallery, and reserved a table for us. We were lucky to catch last orders at the Trattoria Due Enzo & Pasquale on Großneumarkt, before Dave came to join us, really happy that he had made it to the concert, and seen (and also heard of course!) the band that he was anyway going to see again in Brussels the following Monday. Once we were done eating, we walked Khashayar and his partner to their hotel, and then strolled back to our own, as it was also a nice dry night; a real contrast from the day before. Dave, having missed dinner, went off on his own at some point to find a kebab or some other late-night food…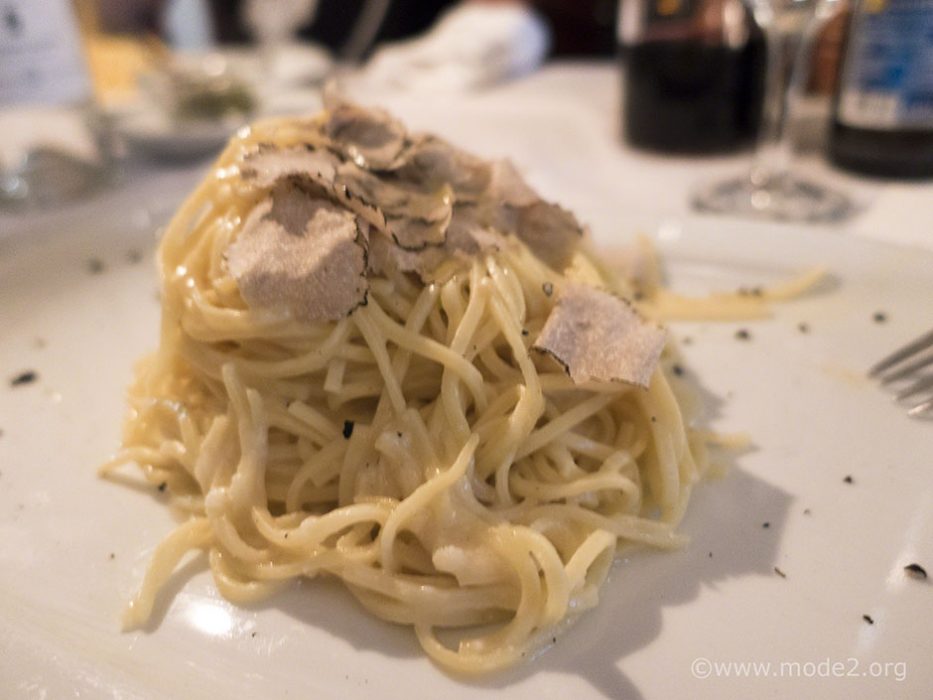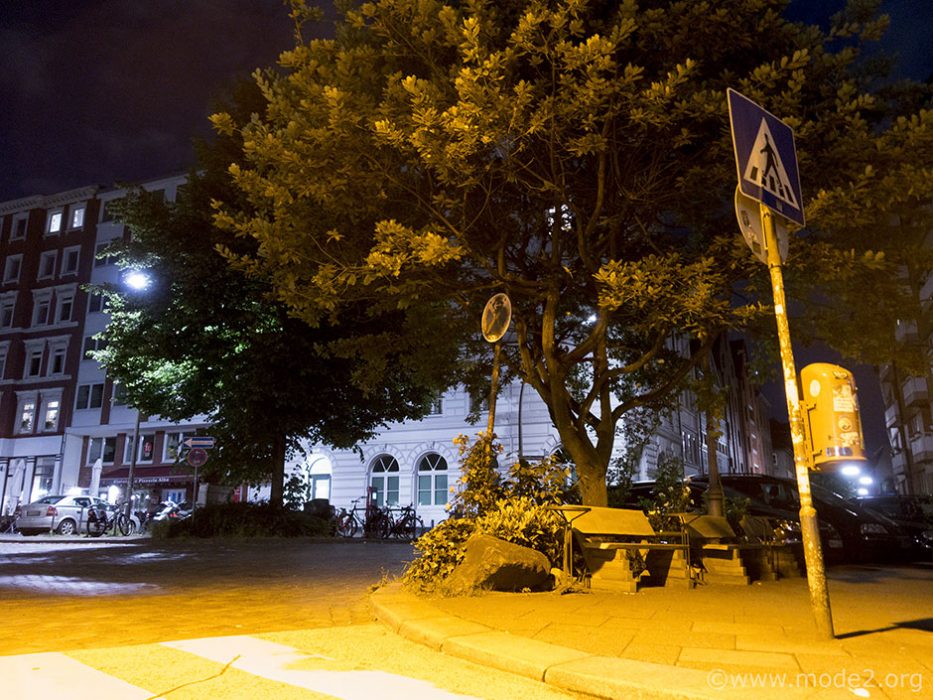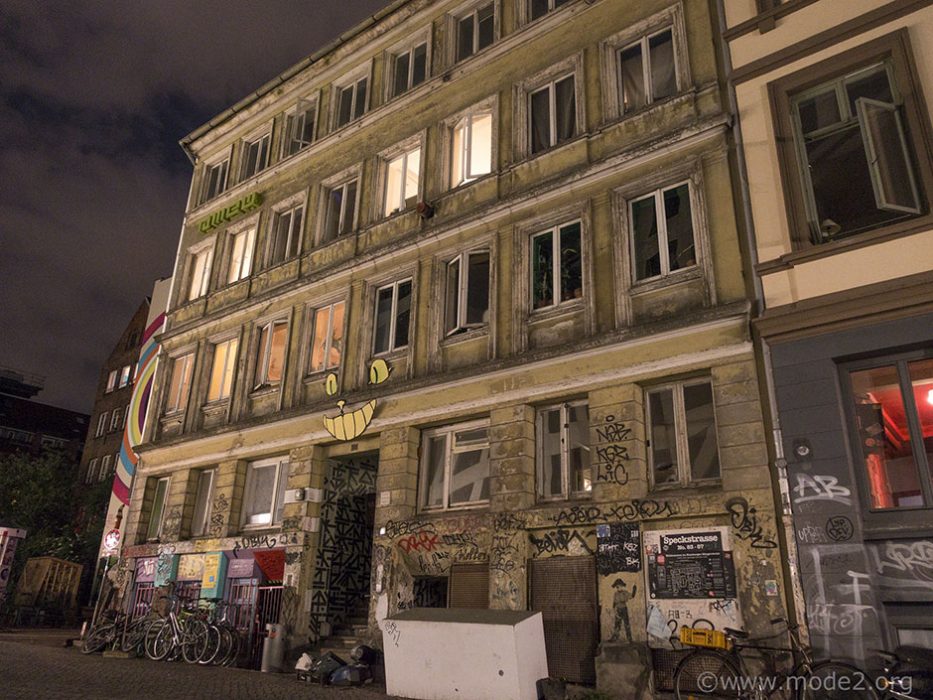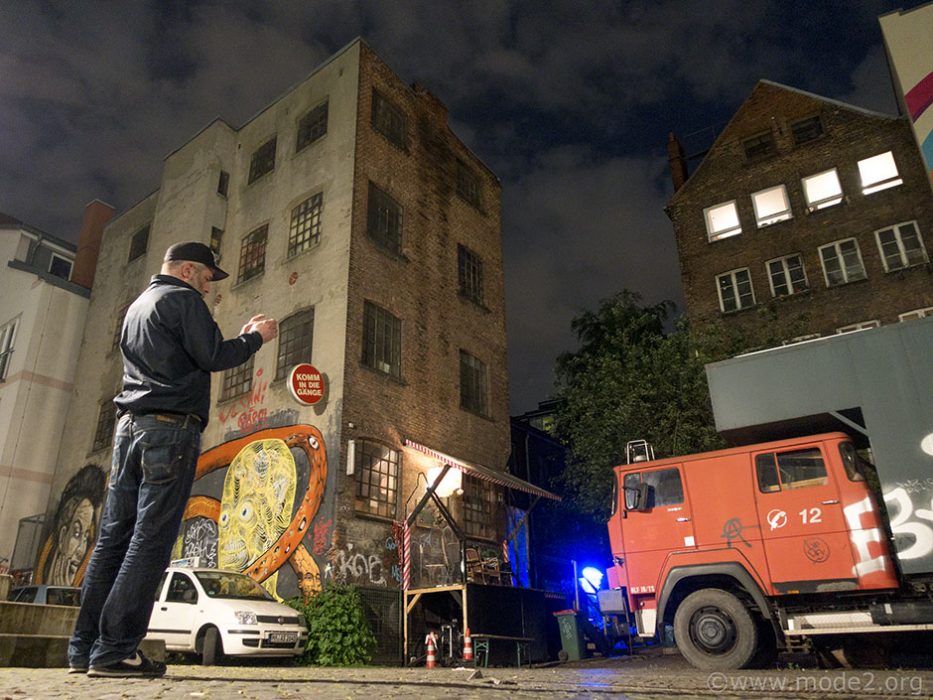 I woke up the next day, checked out of the hotel, and took all of my belongings with me to the gallery, where I had an interview lined up at 11h00 for a magazine called Gude Zeit; while my friend Kal Toure waited to go to lunch, and Dave showed up in between. The three of us went back to Marblau, as Isabella had left me the keys to the gallery. It was nice to be able to sit back, and have a three-way conversation coming from very different perspectives. Kal went off to a meeting after, while Dave and I walked back to the gallery.

I had wanted to add yet a little more white to A Bird In The Hand Is… and Blaming June, once lunch was over and done with, because the white had once again receded; so I set about that, using up the time until the taxi would come and take me to the train station. Khashayar dropped by, and took some photos on his phone, while I worked away, until it was finally time for me to go…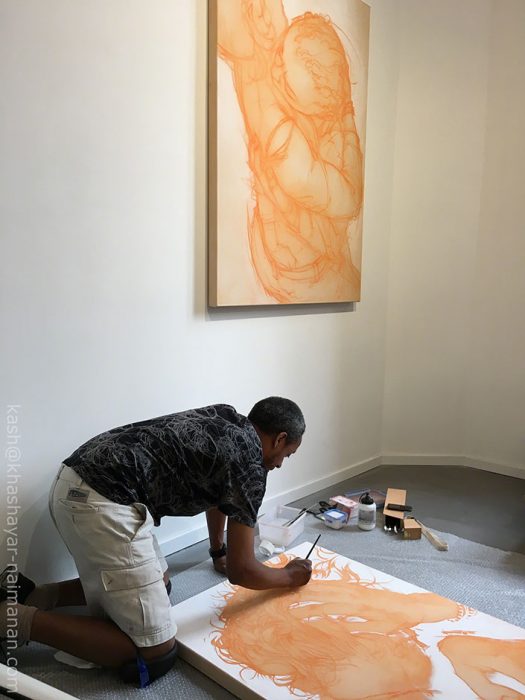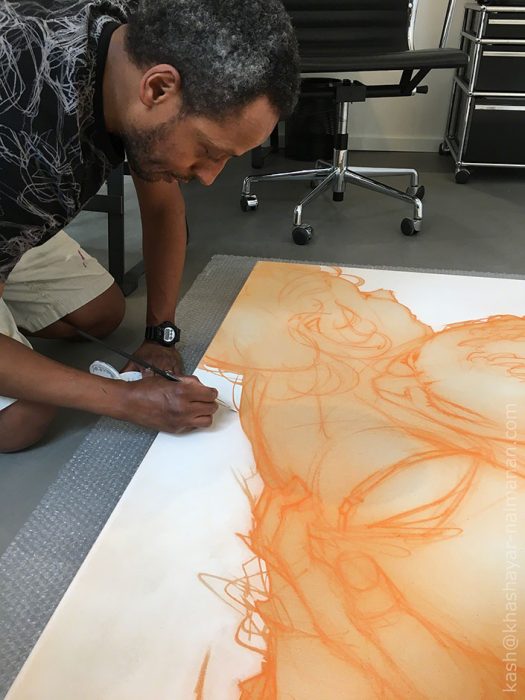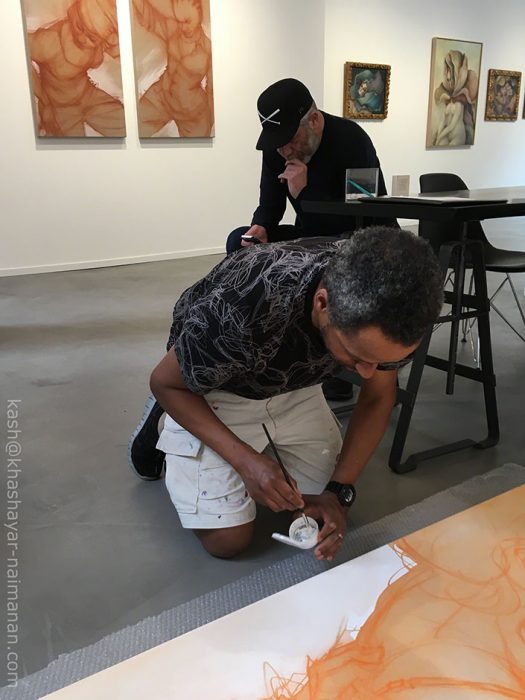 I hope to be able to make it back to Hamburg before the end of the show in September, as I'm really keen on doing that radio interview for FSK Hamburg, and I would like to take photos of the pieces using my tripod; before a couple go off to buyers, and I won't see them ever again. The following paintings, along with the other pieces, are on view until September 15th…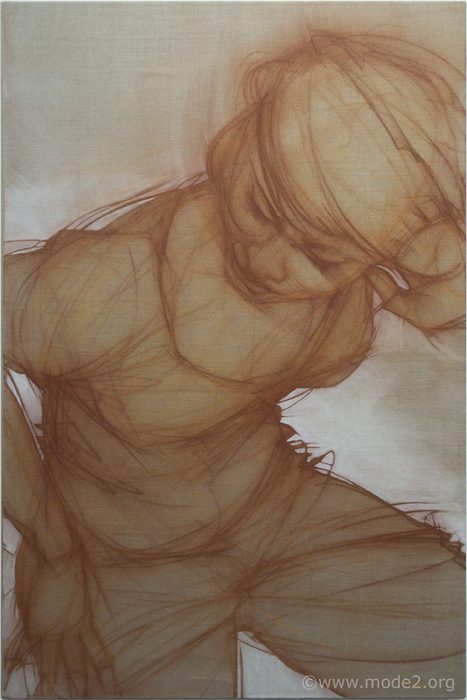 No Time To Talk
h120cm X w80cm
Dry pastel and acrylic on linen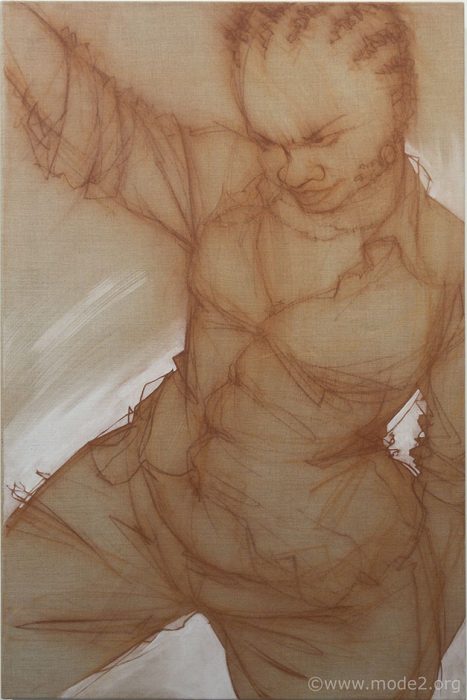 Check!
h120cm X w80cm
Dry pastel and acrylic on linen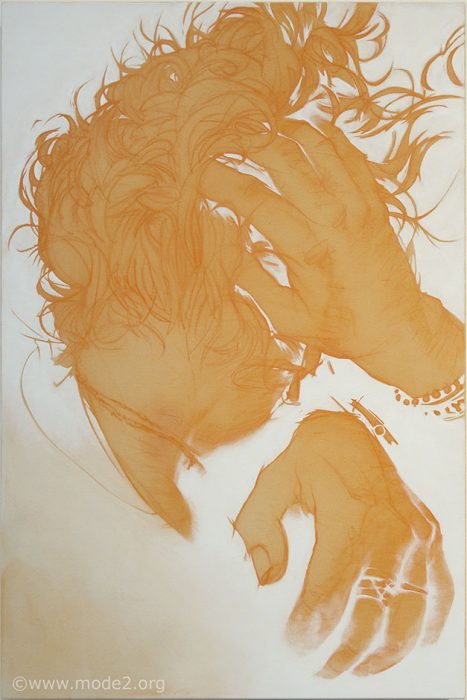 Blaming June
h120cm X w80cm
Dry pastel and acrylic on cotton

A Bird In The Hand Is…
h150cm X w110cm
Dry pastel and acrylic on cotton