I hadn't been to La Coupole since Summer 1991, for a jam called "Hip Hop Reality". Since those days, they had a ventilator installed, which meant that I could paint the piece that is usually finished on the stage, in the venue itself, during the party.
I had been contacted by RosyOne and Dj Nerz about this gig since a while already, but, being still down to support Hip Hop, I also ended up doing the poster and flyer, when Nerz proposed this to me.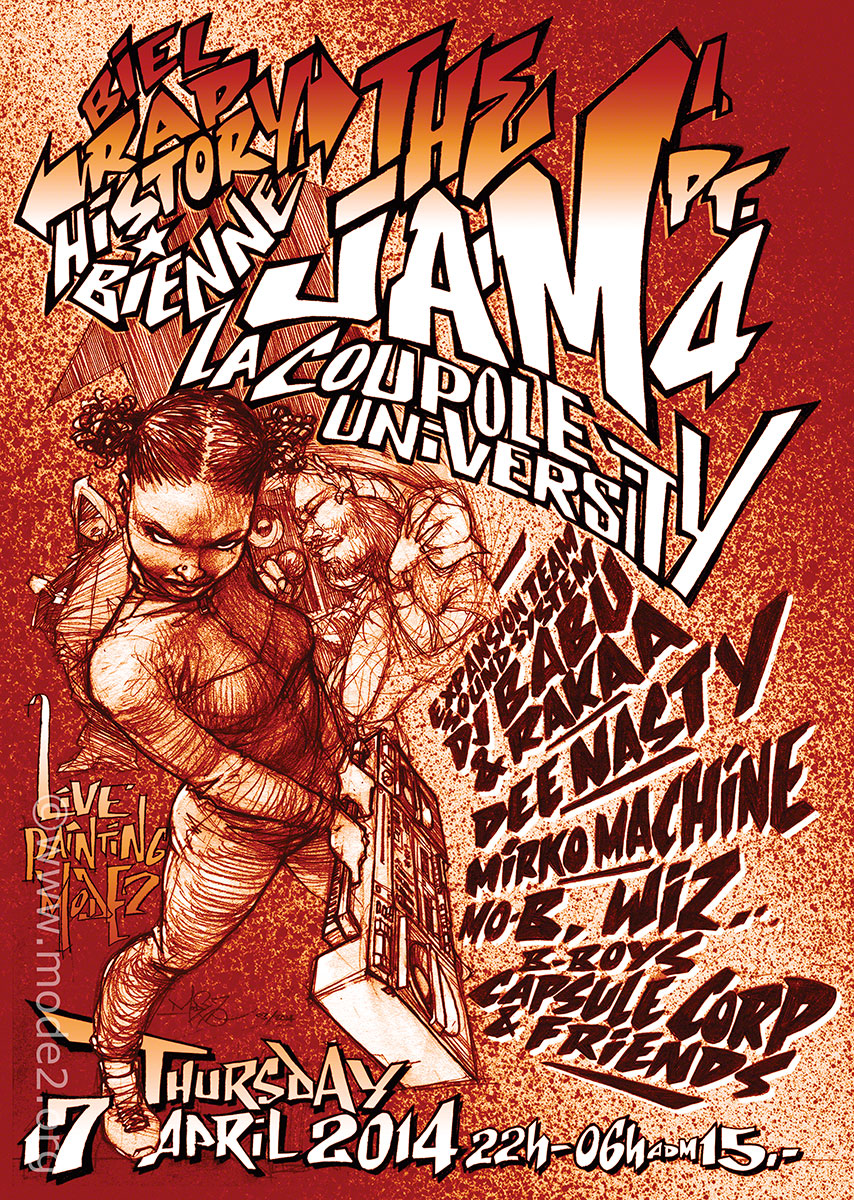 I got there on Wednesday 15th of April, was given the key to the venue, so that I could get in the next morning. At La Coupole, it's the same two old stretched canvases that get used either separately, or else together, for the stage; so I had to paint over the graphics from the previous show. It was funny to see David Rodigan's name on one of the panels. That takes me back to my childhood days in London, and his Saturday night show on Capital Radio.
I just improvised the piece from that point on until late afternoon, leaving only what's within arm's reach, and what wouldn't cause too much paint-fumes, for that evening's live performance. DJ Babu's "sound-check" was just what the doctor ordered, when the clock was running down at the end of the day;
I went back to the hotel for a nap, as I was to come on and finish the piece live at around 01hrs30, as my man Dee Nasty was finishing his set, before Babu and Rakaa came on. Dee Nasty had played some tunes that I hadn't heard since listening to LWR back in '84, on some strictly vinyl tip; then Babu and Rakaa came on to take matters further.
Mirko Machine came on after them, by which time I was considering calling it a night, as the place was hot and sweaty and smoky, despite the ventilation system; but also because the dance-floor was just covered with plastic beer cups and too wet for the b-boys. Can't win 'em all, but at least it would have been nice to see a wider variety of moves on the floor. Such is the particularity of a multi-use venue like La Coupole though, which is the only one to really give a stage to alternative music in Biel. A big shout-out to those who made it happen then…
I didn't see much of Biel, just the venue and the walk to and from the hotel, and the final stroll to the train station on Friday lunch-time…
…and here's a mosaic of the painting sequence;